Mom's Cake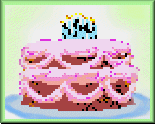 Norma Johnson is now 80. She learned this recipe as a child and
over the years, made some minor changes, like the folding in of the eggs whites at the very end. The result is that the cake turns out to be very light. At 80 going on 81, she makes at least five or six a week, mostly for friends and family, who consider this to be among the most delicious cakes they have eaten.
Ingredients:
1 lb Flour
1 lb Granulated Sugar
6 Eggs
1 cup Full Cream Milk (chilled)
1/2 lb Margarine
1 tsp Vanilla Essence
2 heaped tsp Baking Powder
1/2 tsp Salt
2 heavy dashes Angostura Bitters
Method:
Pre-heat oven to 350 degrees
1) Mix and sift all dry ingredients together
2) Cream the butter and sugar, then add the 6 egg yolks one at a time while creaming
3) Mix the chilled milk, bitters and essence
4) Fold in flour and milk alternately
5) Beat 4 of the 6* egg whites at high speed until very light and fold into the batter by hand
6) Grease and flour two 9" layer pans, then pour in batter and bake for 25 mins at 350 degrees
7) Allow the two cake layers to cool before putting frosting between them; then lay one on top the other and now frost the entire cake

*the other 2 egg whites are for making the Frosting
Some say the frosting is the best part. Say what....
---
The Frosting for Mom's Cake
Ingredients:
2 Egg Whites
1 1/2 cups ( 13 oz ) Granulated Sugar
5 tbsp Water
1/2 tsp Vanilla Essence
1/2 tsp Light Clear Syrup (e.g. Tate & Lyle)
Method:
Mix and beat the ingredients thoroughly in top part of a double boiler pan, then place that one into the other and with the water boiling, beat ingredients at high speed for 7 minutes more.
---

Back to Favourite Recipes