.

We do catering for all occasions, such as Weddings, Office Parties, Fêtes, Carnival fêtes, Christmas Parties, Lunches, Children Parties, School Parties, Graduations, Birthdays etc. We also can supply serving staff and wares, as well as decorations, ice carvings , entertainment: DJ and/or live band and performers and t-shirts printed with the designs you require.

Ice Carvings
T- Shirts
Decorations
Entertainment
Rental of Antique Car




Golfbag ice carving for St Andrew''s Golf Club Fête at Moka

.
.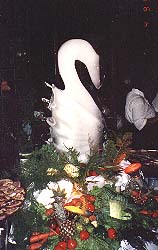 Swan Ice carving
.